Understanding Your Turf Choice
While making your turf choice you will hear many terms and measurements that can be confusing and contradictory. Pile Height, Stitch Rate, Primary Backing, Secondary Backing, Denier, Face Weight, Shipping Weight, Reveal, Scrim and Decitex, to name a few, are all data points in the configuration of various synthetic turf products. Some terms are more important than others depending on your turf application. Balancing the various factors for your application can result in a significant cost savings. Palm Beach Turf would enjoy the opportunity to speak with you in detail about your potential project savings.
Pile Height – Vertical length of yarn above the primary backing.
Reveal – Length of turf visible above the infill.
Primary Backing – Polyester or polypropylene mesh that the synthetic grass yarn is tufted into.
Secondary Backing – Usually latex or polyurethane coating applied to the primary backing to prevent grass blades from being pulled out while adding strength and durability.
Hot Melt Backing – Woven material melted onto the tufted primary backing. Alternative to latex or polyurethane coating.
Cushion Back – Synthetic turf with a foam backing.
Scrim – Felt like material that may be on the back of a cushion back product.
Thatch Layer – Secondary yarn that sits at a lower level then the primary blades. Can be brown or green in color and is usually curly in shape.
Stitch Rate – Number of tufts of turf over a 3"length of a stitch row.
Stitch Row – Line of tufts running lengthwise along a roll of synthetic turf.
Gauge – Distance between stitch rows.
Total Weight – Weight of one square yard, 9 square feet, of synthetic turf including all materials that are integral to the product. Not to be confused with face weight.
Face Weight – Total weight of the yarn per square yard tufted into the primary backing.
Shipping Weight – Total weight of turf including packaging.
Seaming – Joining of turf end to end, head seam, or side to side. Seams can be sewn or glued over seaming tape.
Manufactured Edge – Exposed primary backing at the edge of a turf roll that runs lengthwise on both sides of the roll.
Infill – Material added to the turf that acts as a ballast to hold the turf down, support the blades to keep them upright and protect the backings from wear. Infill should be installed proportionate to pile height. There are numerous types of infill with various features; cooling agents, antimicrobial features and cushioning affects.
Synthetic Turf (Fake Grass, Artificial Grass, Artificial Turf, Faux Grass, Replica Turf, Astro Turf, Synthetic Grass) – A surface of synthetic fibers having the appearance of natural grass.
Base – Material which is installed under synthetic turf to create a smooth surface and stabilize the turf installation area. Depending on application and drainage base requirements can vary from concrete screenings to road base or a combination of materials.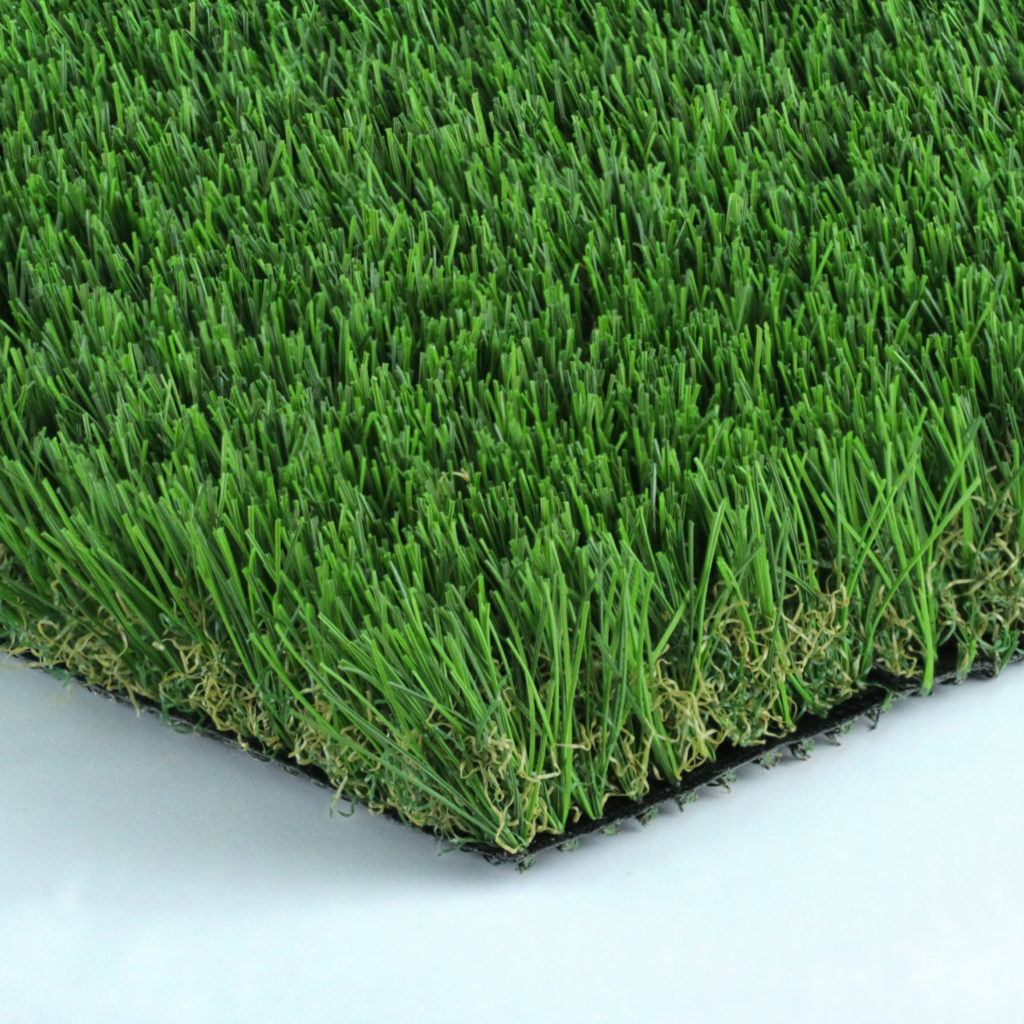 Palm Beach Turf does carry their own line of artificial turfs representing quality products from the industry which incorporate advanced, state-of-the-art technology. If your choice is to use Palm Beach Turf products, you can expect a professional installation with long-lasting perfection, time savings, money savings and little to no maintenance.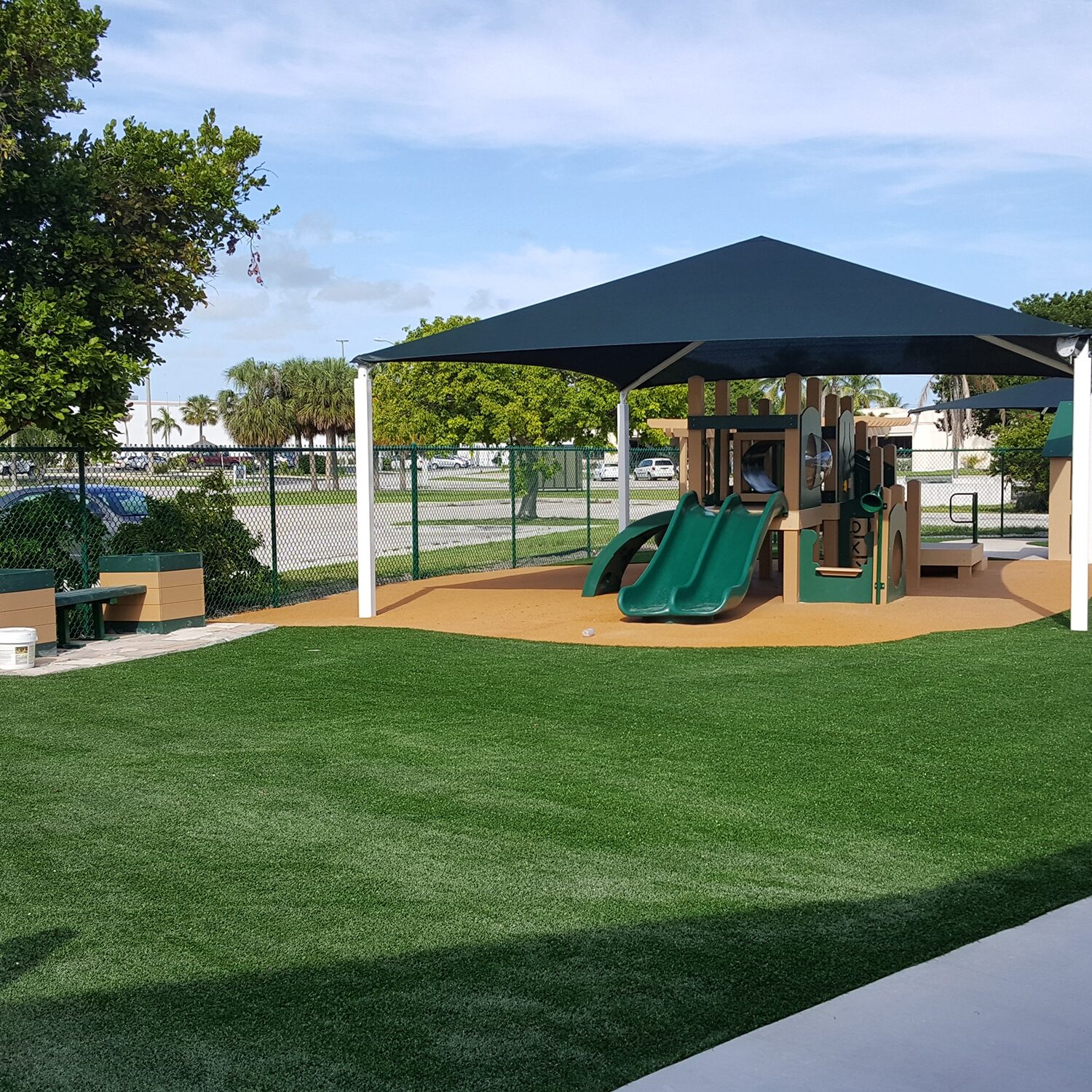 The Palm Beach Turf Difference
At Palm Beach Turf, we are committed to making our customer's experience convenient and expedient. We providing our clients with the most natural looking, feeling and performing synthetic turf products available in the marketplace. Our goal is to take your vision and turn it into reality with a beautiful design that is professionally installed, giving you the user-friendly space you want, need and deserve.
Synthetic turf is basically a commodity with many of the competing brands being made by the same manufacturer on the same machines and shipped as white labeled goods. Each synthetic turf dealer has a list of Benefits and Features (BF) relative to their turf; anti-microbial, anti-static, cooling attributes, better drainage, tougher backing, longer thatch,better infill, stronger seams, etc. etc.
Palm Beach Turf will assist you in choosing the right turf for your project, based on your vision and your preferences. Our goal is to professionally install your chosen synthetic turf product, resulting in a beautiful user-friendly space for relaxation and recreation.
Latest Project
Our clients wanted to give their patio and pool area a complete, maintenance free makeover. We added synthetic turf to the patio area around the stepping stones creating a gorgeous entrance way to the pool.
We just used PB Turf to redo our backyard and put in a putting green. They exceeded our expectations! Staff was very professional, friendly and clean. We would highly recommend using PB Turf again!
-Clayton I
These guys installed absolute quality turf with A1 service and installation. I shopped around, the attention to detail and expert guidance made it an easy call. I have two boxer puppies that run LAPS on the turf and it hasn't budged a bit. Niel recommended a great spot for a putting green so I had to throw it in the bag. No cutting or watering makes it easy keep the yard looking prime with no effort. Highly recommend.
-Tony R
Wanna thank Palm Beach Turf for the awesome transformation in the yard! Couldn't be happier with the whole experience! We love our new CARE FREE yard!
-Arman W